The great Ralph Waldo Emerson once wrote: "The purpose of life is not to be happy. It is to be useful, to be honorable, to be compassionate, to have it make some difference that you have lived and lived well." We at Aspergers101 would like to recognize those who serve. People helping others and truly making a difference in the lives of those with special needs. We begin our inspirational series featuring a woman I've seen frequent Central and South Texas with her grit toward helping young people gain traction in the world of employment. Raeme Bosquez-Greer is a superwoman of sorts…she is that strength behind linking an employer to a suitable employee…then making that relationship flourish. Raeme is a program coordinator by title, but truly gives of herself, everyday, toward persons diagnosed with a disability. Of course, she only sees the "ability" in each and every client making her a true inspiration!
AS101: We are inspired by you Raeme Bosquez-Greer! First please give us an overview of what you do. 
Raeme: I am the Program Coordinator for Job Adventures a 501(c) that is dedicated to helping young people with disabilities find meaningful employment. Mainly I help young people transitioning from high school to the world of work.  We teach interview skills by discussing the various types of interview, performing mock interviews and help with answering questions appropriately.  We help build resume's and learn what Cover Letters and Thank You Letters are.  Young people are taught how to go about a job search.  We provide a Work Experience program where individuals get to try out various jobs for a few weeks to see what fits them best.  We then seek to place individuals in appropriate, meaningful job.  Seeing the kids flourish is my passion. As Program Coordinator I communicate with our staff and provide information to and coordinate with our consumers and employers.  I establish and maintain interpersonal relationships, developing cooperative working relationships with other and maintaining those relationships.  I develop goals and plans for our staff and ensure that these goals are met. I am also responsible for communicating with people outside the organization, with the community, government and other external sources.
_________________________________________________________
"Remember, the only person you have to be better than is the person you were yesterday!" – Raeme Bosquez-Greer

______________________________________________________

AS101: What led you to so passionately help others?
Raeme: I've always been drawn to helping others.  From the time I was in college I was not supposed to be working due to athletic commitments but would sneak out to go work at the state hospital.  I get my greatest thrill seeing a young person experience what is like in an industry where he/she had no idea if they could succeed and watch them succeed in spite of the No's and rejections.  It is a thrill when we have success and everyone is thriving and satisfied on all ends.
AS101: You are a transplant (lucky us) to Texas ….what part of the globe are you from?
Raeme: I was born on a military base in Alameda CA. but grew up in the small town of Newman CA.  Newman is in the Central Valley of California, about 90 miles inland from the Bay Area.  Newman is all agriculture and dairies.  Not what you think of when you think of California.
AS101: You are passionate about family…will you share your family story with us?
Raeme: We are a blended family.  I've been married to my husband Mark for eight years.  He is what brought us to Texas.  In California I was a foster parent to over 20 children over the years.  As the years progressed I decided that I needed to adopt a few of them.  I ended up adopting five with varying degrees of special needs.  They are now 14, 15, 16, 17 and 18.  All thriving and active.  My husband has two older sons, 25 and 29.  We also have two grand kids from our oldest son.  After moving to Texas my parents decided to follow and now live with us so we have quite an active household.
AS101: What do you see, in a perfect world, in employment for your clients?
Raeme: In a perfect world I see a world of inclusion and no judgements.  Where individuals are admired for what they can do, not what they cannot do. In a perfect world there would be less detachment from a different level and a more hands on approach so we can always remember our mission and support each other.
Where do you see yourself (professionally) in 5, even 10 years?
Raeme: I don't think that I will ever stop helping people.  I would like to have more of a global outreach so I can impact more lives.  Management does not greatly appeal to me as it takes away from my passion of hands on work with the individual.
AS101: Give us a "Raeme" take-away. What would you like to impart to our readers?
Raeme: Because I am a mother who has children transitioning from school to the real world of work I feel my twenty years of experience professionally and personally will hopefully be put to good use as we continue to learn more and be more then we were yesterday.  Remember, the only person you have to be better than is the person you were yesterday!
We are thrilled to announce that Raeme will be sharing her expertise on employing those with Autism and Asperger Syndrome in a series of blogs exclusively on Aspergers101! She will share insights from preparing for a job, landing the job and then maintaining employment in today's competitive market. Inspiring indeed!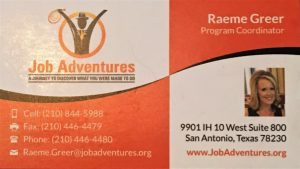 The following two tabs change content below.
Jennifer Allen
After an extensive career broadcast marketing, Jennifer and her husband searched for answers when their oldest son hit the kinder years with great difficultly. After finally learning that their oldest son had Aspergers Syndrome, she left her career in television and became a full time mother to both of her sons. Jennifer elicited the participation of her sons and together they produced several independent programs including a children's animated series titled Ameriquest Kids (now distributed by Landmark Media) as well as her documentary and book titled, Coping to Excelling: Solutions for school-age children diagnosed with High-Functioning Autism or Aspergers Syndrome. The need for more information encouraged Jennifer to elicit a team of autism experts to provide weekly, original content to a website free to anyone seeking to live their best under the diagnosis of High-Functioning Autism/Aspergers Syndrome… appropriately titled: Aspergers101.com.
Latest posts by Jennifer Allen (see all)