If you reside in the state of Texas, you are now able to get a restriction code directly on your driver license (or State ID) stating you are hearing impaired or deaf. It's called Communication Impediment with a Peace Officer and it is available to anyone challenged with communication such as Deafness, Autism, Asperger Syndrome, Parkinson's, Mild Intellectual Disability, Down Syndrome, Mutism, PTSD and more.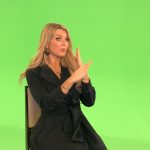 This is the same campaign Aspergers101 initiated over 2 years ago resulting in Texas Legislative changes, however now the campaign is alerting residents statewide of the broader options, notably, the 7% who are hearing impaired.  Emma Faye Rudkin, has graciously accepted the role of spokesperson in our statewide Public Service Campaign now airing throughout Texas. Emma is profoundly deaf since an early age illness but has become a major advocate for those who cannot hear. She is the founder of the non-profit organization Aid the Silent, in 2017 became Miss San Antonio and San Antonio Woman of the Year in the SABJ 2018 class of 40 Under 40.  Her faith in Jesus is her strength and her passion for others drives her onward. She is inspired and inspires. We at Aspergers101 are grateful for Emma's participation in the Driving with Autism and other Communication Impediments initiative in alerting others of the new driver license code.
The :30 PSA, as seen below, notifies drivers of the code and how it may save them in a pull-over scenario.
Our interview with Emma Faye Rudkin below:
AS101: Why do you think this new Texas DPS code is a good thing for those who are deaf or hard of hearing?
Emma Faye Rudkin: The new restriction code is crucial as a deaf person. My biggest anxiety while driving is being pulled over and unable to understand the officer. This removes a lot of barriers for deaf people and it is clearer than the old code. Officers need to be notified right away as they look at my license instead of me struggling to explain that I am deaf and need help communicating. The new code makes it obvious for the officer at the beginning to understand I cannot hear his instructions and questions.
I read a horrifying story of a deaf man being killed in Oklahoma by a police officer because of miscommunication and not following his instructions. That could happen to any deaf person if