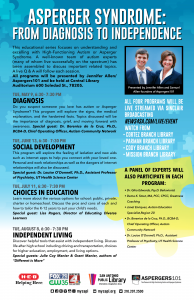 In the summer of  2017 Aspergers101 launched a Summer Series on Autism in conjunction with the San Antonio Public Library System. WOAI-TV live-streamed all four conferences where area experts on Autism participated in a panel discussion at the conclusion of every power-packed workshop.
Kicked off by Ron Lucey with the Texas Governor's Committee on People with Disabilities and announced by Ramiro Salazar, Director of SA Public Library System at the Press Conference, it was a huge endeavor that allowed free access to information on Autism.
This is community and teamwork at its finest!
We want to share all four sessions with you.
The four workshops are as follows:
Diagnosis
Social Development
Choices in Education and
26Independent Living
Press Conference Announcing Aspergers101 Summer Series with the San Antonio Public Library  Asperger Syndrome: From Diagnosis to Independence.
May 3rd 2017 10:30a San Antonio Public Library Downtown

SUMMER SERIES VIDEO LIBRARY