I am so excited to tell you about a new website for families of children with disabilities and special health care needs: Navigate Life Texas  (AvancemosJuntosTexas). We at Aspergers101.org are always seeking informative new streams of support for families trying to offer their autistic/aspergers child the very best in services and Navigate Life Texas fills the bill! If you do not live in Texas, then by all means inquire about getting a Navigate Life (or one like it) in your state/country.                     – Jennifer Allen/Aspergers101
This bilingual website was designed to be a place of support and a source of help.  It was created by a task force that's part of the Texas Health and Human Services Commission.
It was three years in the making and the website development team spent a lot of time talking to parents across Texas.  They wanted to make sure the content would meet family's needs.
One unique feature is that every page of the site was written, reviewed, or edited by parents of children with disabilities and special health-care needs. 
The website has content to address the needs of parents of children of ALL ages. It contains articles on:
New Year...New Initiative
Happy New Year! As Aspergers101 begins the year 2016…we go in with a bang for our Autism/Asperger Community. Celebrating the Uniqueness of Autism is a campaign designed to do just that…celebrate the quirks and perks of Aspergers Syndrome. One way Aspergers101 will reach out is through a collaborative effort with the Sinclair Broadcasting Group's TV Station in San Antonio Texas, WOAI-TV.

General Manager John Seabers and  Creative Services Director Terry McFarlane graciously agreed to partner with Aspergers101 in bringing the message of Celebrating the Uniqueness of Autism to the viewers through a series of PSAs (Public Service Announcements) to air on WOAI, News 4 San Antonio, and digital Channel 4.2 Antenna TV as well as a worldwide reach on Aspergers101.org.
Agreeing to host the PSA series is senior veteran anchor Randy Beamer with the initial ads featuring the talents of Dr. Temple Grandin, Samuel Allen and Houston Eco-Artist Grant Manier. Each posses unique talents that could have been overlooked if not for someone standing up for them and guiding them toward their area of expertise.
We want to share these initial PSAs with you here:
Spotlight on: Inventor, Autism Activist and Author Dr. Temple Grandin

It's #GivingTuesday...Take Part!
Aspergers101 is helping to safely put those with Autism/Aspergers behind the wheel!
Working with the Texas DPS, Dr. Temple Grandin, and our State Legislature (R-Lyle Larson), Aspergers101 has begun a 2-year initiative titled: "Driving Safely with Autism/Aspergers Syndrome". This project involves marketing the new Texas drivers license restriction code: Communication Impediment with a Peace Officer, and implementing changes that will enhance communication/understanding between the law and a person with Autism/Asperger Syndrome or other communication impediments. 
Started by the mom of a son with Aspergers Syndrome, Aspergers101.org is a 501c3 non-profit that was recently awarded the #2 slot on The Top Ten Worldwide Websites List on the topic of Autism/Aspergers Syndrome!
Thank you for your consideration of supporting this ground-breaking endeavor. Texas would lead the country with the implementation of such a program. You will soon see a section on the Aspergers101 website offering updated information on the status of the two-year project which includes posters (pictured), tri-fold brochures (both in Spanish and English), training video modules and Texas DPS amendments during the January 2017 Legislative Session.
The statement below is from someone I admire and have had the privilege to meet and interview for Aspergers101. Jennifer McIlwee Myers, Aspie at Large,  is a writer and a speaker in the Autism world.  Her insight into the world of Autism not only entertains but offers enlightenment (especially for us neuro-typicals) so when she posted her thoughts in reference to the news of the recent horrific college shootings by someone diagnosed with Aspergers, we asked her permission to re-post for our readers. 
There are many discussions online about the person who shot and killed 9 people at Umpqua Community College in Oregon. The one I want to address is the shooter's Asperger's diagnosis. Unfortunately, having Asperger's (or autism) doesn't protect you from mental illness, and it doesn't make you an angel.
Aspies and auties can have the same kinds of mental problems as other folks. Frankly, I worry that people on the spectrum are less likely to get appropriate mental and medical help because any problems or "weird" behaviors we have are blamed on autism.
But don't let anybody tell you we are in any way more dangerous than humans in general. The only people we are more likely to hurt are our own individual selves, and then only for the reasons that humans in general do. Like everyone else, those of us who experience little acceptance and lots of bullying may self harm or use alcohol and other drugs when the coping methods we have just aren't enough. We can be troubled, because we are human.
And yes, if you have someone living in your house with recurrent severe depression, it is better not to have easily accessible, already loaded firearms around. That's because when people who decide to commit suicide are delayed from doing so, they usually wind up staying alive.
I can understand anger. I can understand rage. I can even understand really feeling like you want to hurt someone. I don't understand actually doing so. I don't understand why people actually commit mass murder. I don't understand killing sprees.
Those of us on the spectrum are just as saddened and bewildered by this as the people who aren't. The only way I know to cope is to be human together.
-Jennifer McIlwee Myers/Aspie at Large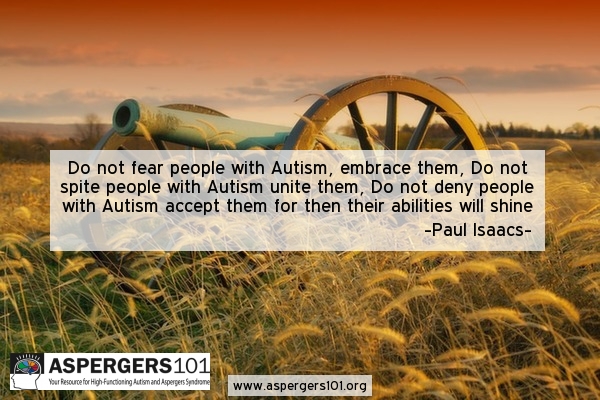 Welcome Home Newspaper
June 2, 2015
The Big Give is Today…and we hope you will think of Aspergers101! Set aside as a national day of giving, The Big Give encourages you to support the non-profit of your choice. If you utilize this site and appreciate it's daily content, please consider a minimum gift of $10! Joined together this combined effort will offset our hard costs and allow for maintenance, outreach and growth in sharing valuable information on living your best with Aspergers and High-Functioning Autism.  Here is a direct link to the Big Give Website GIVE HERE
Here is more about Aspergers101 from our inspiration, Samuel Allen.


We know you have a choice when supporting a 501c3 (non-profit) and are grateful you've stopped to consider giving to fund our efforts at Aspergers101! -Jennifer Allen/President Aspergers101
Don't think of Autism as a weight…think of it as wings by which to fly!
Samuel Allen
(Aspergers101.org)